JohnstonWells featured in Holmes Report PR Agency Report Card
Wednesday, 28 October 2009 18:30
JohnstonWells Public Relations is profiled in the 2009 Holmes Report PR Agency Report Card, amongst the leading public relations consulting firms in North America.

Highlights of JohnstonWells' profile include the shift in leadership from founder, Gwin Johnston, to her successor (and daughter) GG Johnston, a track record that spans more than three decades, a steadfast reputation of stability and experience, agility in response to industry change as well as award highlights over that past couple of years.

Additionally, the 2009 PR Agency Report Card ranked JohnstonWells 26th amongst the best U.S. agencies to work for.
Friday, 09 October 2009 20:18
JohnstonWells Public Relations is proud to celebrate its 38th anniversary this October! Founded in 1971 by Gwinavere Johnston, JohnstonWells has seen a lot of exciting changes, economic shifts, business triumphs and transformations over the years.

We're proud to be part of such a vibrant community and to look back on 38 years of smart and innovative clients. Perhaps the best part of 38 years in Denver is running into JW alumni nearly everywhere we go!

Check out our Facebook page with fun birthday wishes from friends and family of JohnstonWells.

A few of our favorite shared highlights include:
Homer the Hedgehog's wagon parade from Writer Square to the Denver Press Club
The new rooftop patio celebrations
The guy caucus
We appreciate all the birthday wishes, and can't wait to celebrate another 38.

Party on.
Wednesday, 09 September 2009 00:00
This fall JohnstonWells is working with Pennies for Peace, an international service-learning program with tens of thousands of participants around the globe. JohnstonWells will help promote the "Journey of Hope" benefit concert at Red Rocks Amphitheater on Sept. 20. Find out more about the event and purchase tickets at: http://www.journeyofhopeconcert.org.
Read more...
Thursday, 03 September 2009 22:53
JohnstonWells' client, BERNINA of America's finest sewing machine, the BERNINA 830, will appear on MTV's newest hit show – "House of Jazmin," documenting the exciting life of young fashion designer Jazmin Whitley as she prepares for Los Angeles Fashion Week. Check it out!
Elizabeth Jumel Named Social Media Manager
Monday, 10 August 2009 00:00
Elizabeth Jumel, APR, has been named the new social media manager at JohnstonWells. In this role, she will apply 11 years of public relations experience to blending traditional client programs with social media strategies and tactics. These efforts will help clients find the right mix of traditional and social media, ensuring business objectives are met. Over the last few years, she has been watching and participating in social media (@newsonthefly on Twitter). She has worked on client projects involving Twitter and Facebook, helping bring increased awareness to events and programs in the Denver area. She has also contributed to the JohnstonWells and Colorado PRSA blogs.
JW's YPs Serve Up Fried Chicken for a Good Cause
Tuesday, 21 July 2009 16:33
Last week three members of the JohnstonWells staff, in collaboration with the LoDo Young Professionals, helped serve dinner to the folks at the Barth Hotel in Lower Downtown. Barth Hotel, an arm of Senior Housing Options, provides support and assistance to seniors and older adults with disabilities. The LoDo Young Professionals is a committee within the LoDo district that focuses on mentorship, community involvement and networking opportunities for young professionals who live, work and play in the LoDo area.  Lee Bley, an associate at JohnstonWells, is the current co-chair of the LoDo Young Professionals.
Read more...
CBCA Elects Gwin Johnston to Board of Directors
Friday, 12 June 2009 15:45
Colorado Business Committee for the Arts (CBCA), has elected Gwinavere A. Johnston, Chair and Founder of JohnstonWells Public Relations, to its Board of Directors. CBCA is a 501(c)(3) with the mission to serve as a catalyst for Colorado's business community to leverage the arts for economic vitality.

Deborah Jordy, CBCA Executive Director, comments, "Gwin is well known for her support of the arts, creative industries and the direct impact they have on economic development. She is a highly respected and committed professional and CBCA is privileged to have her leadership on our Board."   
Read more...
Gwin Johnston Appointed as SAGE Counselor
Wednesday, 10 June 2009 21:31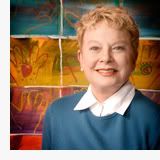 Gwinavere A. (Gwin) Johnston, owner and chairman of the board of JohnstonWells Public Relations, has been named a SAGE Counselor by the Public Relations Society of America's (PRSA) Counselors Academy.

SAGE stands for Strategic Advisors for Growth and Excellence, a distinctive group of public relations firm owners who are a part of PRSA's Counselors Academy. The academy is a professional organization comprised of senior counselors who are committed to advancing the caliber of public relations counseling in North America.

Read more...
Sculptural Pursuit highlights JW's bright space
Tuesday, 26 May 2009 20:33
While most office spaces operate in shades of gray, JohnstonWells Public Relations proudly colors outside the lines.

JohnstonWells' whimsical folk art collection and bright décor have inspired creativity and excitement among JW employees, clients and passersby ever since we moved into our new digs in the Rocky Mountain Seed Company building last fall.

Now, JW's colorful personality is capturing the attention of art lovers throughout both near and abroad.

JohnstonWells has been prominently featured in Sculptural Pursuit's Summer 2009 issue.
Read more...
JohnstonWells Helps DMCLF Celebrate 35 Years of Civic Leadership
Thursday, 14 May 2009 17:09
JohnstonWells Public Relations has selected the Denver Metro Chamber Leadership Foundation (DMCLF) as its 2009 pro bono recipient.

To commemorate 35 years of civic leadership, JohnstonWells has created the online component of Leadership Denver's Oral History Project, a multimedia tapestry of stories, interviews, videos and pictures from more than three decades of Leadership Denver alumni. To view the Oral History Project, visit http://ld35.denverleadership.org.
View the release on PitchEngine.
JW Begins Work with Faegre & Benson LLP
Wednesday, 13 May 2009 20:04
JohnstonWells has been hired by Faegre & Benson LLP, a recognized leader in the Colorado legal community, to work with the law firm's Colorado marketing team on public relations strategy and programs.
Read more...
Page 5 of 11